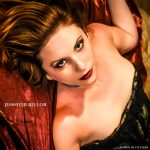 Fusing contemporary art song with pop and alternative rock, Songs in the Dark is a musical exploration into the dark, haunting and evocative poetry of Emily Brontë (1818-1848) and John Donne (1572-1631).
Credits
Jennifer Bellor, composer and singer
Christina Wright-Ivanova, piano
Jason Corpuz, synth
Summer Kodama, electric bass
Ron George, mixing at UNLV
Chuck Foley, recording at UNLV
Gil Kaupp, mastering
Zen Ritual Creative Services, album cover photo
Check out Songs in the Dark on CD BABY
Songs in the Dark will be available on ITunes, Amazon, and Spotify June 21, 2017.
Two music videos for I'll Not Weep and Fall, Leaves, Fall will be produced by Zen Ritual Creative Services and released late Summer/ early Fall 2017.
For more information, visit SONGS IN THE DARK