Crystalline (2017) for 2 piano and 2 percussion
Crystalline was commissioned by pianist Olga Shupyatskaya and Futaba Niekawa for premiere at the Eastman School of Music July 2, 2017 in Kilbourn Hall on Shupyatskaya's summer faculty recital. It is more or less a theme and variations based off of an order of pitches to represent the process of building a crystal as all of the pitches are eventually introduced in the vibraphone part. I created a line that not only provides melodic/thematic material, but also influences the harmony:

The vibraphone primarily plays the line over and over again. At then at the end of the piece, it is is retrograde before it moves forward once again. The textures in both of the piano parts and the second percussion part using bell-like and metallic sounds all work together to create a sparkling, crystal-like atmosphere very much inspired by
both Chick Corea's "Crystal Silence" and Bjork's "Crystalline."
Stay (orig. "Reste") (2016) for clarinet, vibraphone, and piano

Cory Tiffin, clarinet
Luigi Ng, vibraphone
Jae Ahn-Benton, piano
Stay was written for clarinetist Cory Tiffin, and premiered at the UNLV Nextet concert March 14, 2016.
Additional performances include the New Music at the Green Mill Series June 19, 2016 in Chicago, WUOL's (90.5FM) Unheard series by the Louisville-based chamber group, A/Tonal July 13, 2016, and at the Missouri State University Composition Festival performance February 27, 2017.
We may not remember activities or conversations we had yesterday, but we would recall vivid details about specific events in the more distant past, often times memories we want to hold onto, and hope they stay with us as time passes. As the memories become more and more distant, details may become altered due to our changing interpretation/perception of that event. I came across this quote from the Stanford Encyclopedia of Philosophy on the concept of Memory: "The very idea of truth in memory, and the attendant possibility of error, implies that we are naturally realists about the past: but this fact about us doesn't dictate answers to questions about just how, or how often, we do remember past truly." Relating this to my composition, the eight-note motive at the beginning reflects the objective memory we hold onto, and the elaborations in the clarinet line represents the subjectivity we have when recalling past events and how our interpretations can creep in and re-shape the memories we have over time.
Moments Shared, Moments Lost (2016) for clarinet and electric organ
Ivan Ivanov, clarinet
Jae Ahn-Benton, electric organ
This contemplative piece reflects those experiences in our lives we look back on and cherish, even though they may never happen again, because the experiences better define who we are. The moments themselves may at times be points of darkness, but we value them for their transformative power when we think about them afterward.
Another version is available featuring Colin Gordon (soprano sax), Julian Garvue (piano), Andrew Links (keyboard), Tyrone Allen (electric bass), and Aaron Staebell (drums):

Skylark Lullaby (2014) for saxophone ensemble (3 soprano sax, 3 alto sax, 3 tenor sax, 3 baritone sax, 1 bass sax)
Skylark Lullaby(2014) was written for the Eastman Saxophone Project, under the direction of Chien-Kwan Lin, and was premiered at the North American Saxophone Alliance (NASA) in March 2014. http://www.esm.rochester.edu/news/2014/03/eastman-saxophonists-will-perform-compete-at-national-conference/
Moment Eternal (2015) for oboe and cello
Commissioned by the Parvenue Duo (Megan Kyle, oboe and Katie Weissman, cello). Here is a video recording from the premiere on Thursday, February 4, 2016 at PAUSA Art House in Buffalo, NY:
Break (2013) for cello and percussion (drum set and vibraphone)
Break was commissioned by the Holland/Weissman Duo for 2013-2014 regional tour, and premiered October 24, 2013 at PAUSA art house, Buffalo, NY.
Heat Remix 2.0 (2012) for percussion sextet and piano
Heat Remix 2.0 (2012) was premiered by the Eastman Chamber Ensemble in Kilbourn Hall, Eastman School of Music. The piece is an orchestrated version of Heatthat was written for Sean Connors on marimba.
Ekho & Penelope (2009) for string quintet
Each piece can be performed on its own. If programmed together, title the piece Ekho & Penelope, and indicate each of these as movements.

I. Ekho's Lament
II. Penelope Awaiting By Her Bedside…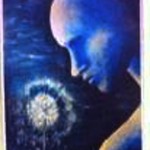 Ekho & Penelope was premiered in spring 2009 at the Eastman School of Music. These two movements also exist in an earlier version for string quartet, and a string orchestra version of Ekho's Lament was commissioned by Millersville University orchestra under the direction of Reuben Blundell in 2009. (see category ORCHESTRA) The premiere at Eastman was dedicated to the memory of friend and artist Jennifer Mathiason, and an example of her beautiful artwork is shown above.

Celestial Surroundings (2009) for organ, brass sextet, and glockenspiel.
Celestial Surroundings (2009) was premiered by organist Nicole Marane and brass players from the Atlanta Symphony at Peachtree United Methodist church in Atlanta, GA February 8. 2009.
On Tap (Just tap it!) (2009) for tap dancer and percussion
On Tap (just tap it!) (2009) was commissioned by the Ossia new music organization at Eastman School of Music, and was premiered on the October 2009 Ossia concert, featuring tap dancer Alex Dugdale, and the Volta trio. Here is another video of a performance at the 2012 Rochester Fringe Festival:
"Drink Me" (2008) for soprano and percussion quartet
text by Lewis Carroll
Premiered at the Aspen Music Festival summer 2008