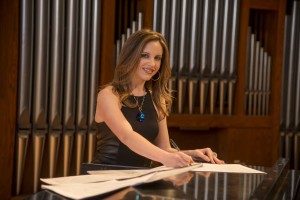 Dr. Jennifer Bellor is Visiting Lecturer in Music Composition at the University of Nevada, Las Vegas. She teaches courses and private lessons on topics including:
Music Composition
Music Arranging
Music Theory
Aural Skills and Sight-Singing
Form and Analysis
Counterpoint
Interested in taking private lessons in composition or any of the topics listed above? Jennifer offers 30 or 60-minute lessons:
Private Lesson Rates


*30 minutes: $40
*60 minutes: $70
*Prices may vary due to commute.
Private Lesson Rates via Skype
45 minutes: $50
For inquiries on private lessons, please email info@jenniferbellor.com with the subject "Private Lessons with Jennifer Bellor."
For more information about the UNLV composition program, please email her UNLV address, at jennifer.bellor@unlv.edu with the subject "UNLV Composition Program."