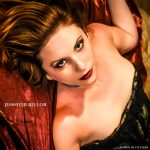 Fusing contemporary art song with pop and alternative rock, Songs in the Dark is a musical exploration into the dark, haunting and evocative poetry of Emily Brontë (1818-1848) and John Donne (1572-1631).
Credits
Jennifer Bellor, composer and singer
Christina Wright-Ivanova, piano
Jason Corpuz, synth
Summer Kodama, electric bass
Ron George, mixing at UNLV
Chuck Foley, recording at UNLV
Gil Kaupp, mastering
Zen Ritual Creative Services, album cover photo
Creative Music Video for I'll Not Weep produced by Allen Muresan and Petrina Olson of Zen Ritual Creative Services LLC
I. I'll Not Weep (poem "Stanzas" by Emily Brontë)
I'll not weep that thou art going to leave me,
There's nothing lovely here;
And doubly will the dark world grieve me,
While thy heart suffers there.
I'll not weep, because the summer's glory
Must always end in gloom;
And, follow out the happiest story—
It closes with a tomb!
And I am weary of the anguish
Increasing winters bear;
Weary to watch the spirit languish
Through years of dead despair.
So, if a tear, when thou art dying,
Should haply fall from me,
It is but that my soul is sighing,
To go and rest with thee.
II. Air & Angels (excerpt from poem "Air and Angels" by John Donne)
Twice or thrice had I lov'd thee,
Before I knew thy face or name;
So in a voice, so in a shapeless flame
Angels affect us oft, and worshipp'd be;
Still when, to where thou wert, I came,
Some lovely glorious nothing I did see.
But since my soul, whose child love is,
Takes limbs of flesh, and else could nothing do,
More subtle than the parent is
Love must not be, but take a body too;
And therefore what thou wert, and who,
I bid Love ask, and now
That it assume thy body, I allow,
And fix itself in thy lip, eye, and brow.
III. The Night is Darkening (poem "The Night is Darkening Round Me" by Emily Brontë)
The night is darkening round me,
The wild winds coldly blow;
But a tyrant spell has bound me,
And I cannot, cannot go.
The giant trees are bending
Their bare boughs weighed with snow;
The storm is fast descending,
And yet I cannot go.
Clouds beyond clouds above me,
Wastes beyond wastes below;
But nothing drear can move me;
I will not, cannot go.
IV. Interlude: Frozen
piano solo performed by Christina Wright-Ivanova
V. Fall, Leaves, Fall (poem "Fall, Leaves, Fall" by Emily Brontë)
Fall, leaves, fall; die, flowers, away;
Lengthen night and shorten day;
Every leaf speaks bliss to me
Fluttering from the autumn tree.
I shall smile when wreaths of snow
Blossom where the rose should grow;
I shall sing when night's decay
Ushers in a drearier day.