Crystal Skies (2013)
orchestra
Flute – Piccolo – 2 Oboes – 2 Clarinets in Bb – 2 Bassoons – 2 Horns in F – 2 Trumpet in Bb – 2 Trombones –  Tuba – Timpani – 2 Percussion – Piano – Full strings
Duration: 10′
Click HERE to view a PDF of the score.
Available for purchase at JW Pepper
Recorded live at American Composers Orchestra's 2013 Jazz Composers Orchestra Institute New Music Readings. The first excerpt showcases the first 48 seconds of the piece, and the second excerpt showcases 2 minutes and 11 seconds of the middle section.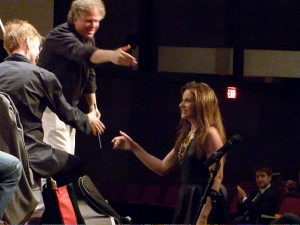 Crystal Skies (2013) was inspired by my experience skydiving for the first time in upstate New York. It was a chilly November day, and as the airplane ascended into the air, it became even more freezing thousands of feet above the ground. When the door of the plane opened and I stepped out onto the ledge, I couldn't wait to fall backwards and sink into the clouds. The freefall lasted approximately one minute, and then I felt like was just floating in the air. In my piece, I wanted to capture that feeling of being suspended in the chilly sky, as if I was flying. The string textures reflect the icy sky, portrayed by the artificial harmonics and ornamented lines that weave in and out of each other. The woodwinds represent birds gliding in the sky, and for a moment, I felt like a bird as I was slowly descending down to the ground.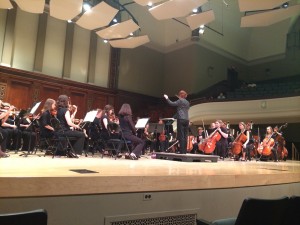 The Greater Rochester Women's Philharmonic Orchestra gave the Rochester premiere of Crystal Skies on June 8, 2014 at the Hochstein School of Music and Dance, under the direction of Nancy Strelau.