Querencia (2016) for wind ensemble featuring vibraphone
A recording is currently not available, but here is a MIDI recording for an idea of the piece:

Commissioned by James Doyle and the Adams State University Wind Ensemble for premiere January 26, 2017 at the Colorado Music Educators Association Conference. The commission was funded by a grant that encourages art based on the culture of the San Luis Valley here in Colorado.
Bordello Nights (2016) for wind ensemble featuring jazz band (soprano saxophone, alto saxophone, electric guitar, electric bass, and drums)
Fanfare magazine praised it as being a "terrific piece of big-band jazz."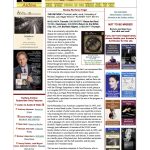 Recorded with the UNLV Wind Orchestra featuring:
Eric Marienthal, alto saxophone
Colin Gordon, soprano saxophone
Mitch Forman, piano
Kevin Axt, electric bass
Bernie Dresel, drums
Bordello Nights was commissioned by Tom Leslie and the UNLV Wind Orchestra for premiere March 10, 2016 at UNLV featuring Eric Marienthal (alto saxophone), Colin Gordon (soprano saxophone), Mitch Forman (piano), Kevin Axt (electric bass), and Bernie Dresel (drums). I wrote a shortened (8-minute) version of this piece for the UNLV France tour, which was premiered in La Croix-Valmer at the Festival des Anches d'Azur June 26, 2016.
Here is a score to the 8-minute version:
North Star: A Listener's Guide to the Flute Choir (2016)
for flute choir and narrator (composition can also work without narrator)
MIDI realization:

Commissioned by Sirocco Flutes and the Nevada Jackpot Grant
Composed late in 2016 "North Star" seeks to illuminate the ranges, timbres and sonorities of the five different size flutes via narration and musical nuance created by individual and group interaction.
Premiered Sunday, April 2, 2017 at Clark County Library, Las Vegas
Skylark Lullaby (2014) for saxophone ensemble (3 soprano sax, 3 alto sax, 3 tenor sax, 3 baritone sax, 1 bass sax)
Skylark Lullaby(2014) was written for the Eastman Saxophone Project, under the direction of Chien-Kwan Lin, and was premiered at the North American Saxophone Alliance (NASA) in March 2014. http://www.esm.rochester.edu/news/2014/03/eastman-saxophonists-will-perform-compete-at-national-conference/
Electric Vortex (2013) for wind ensemble featuring a jazz combo (alto sax, tenor sax or trombone; electric guitar; electric bass; drums)
Here is the score and recording featuring tenor sax:

This is a live recording from the performance by the Eastman Wind Ensemble under the direction of conductor Jared Chase.
Electric Vortex(2013) was written for consortium of 10 ensembles. I enjoy writing music for both jazz and classical musicians, and many of my compositions over the last three years have showcased these musicians performing together. When conductor Jared Chase approached me summer 2012 about writing a piece for both the Eastman Wind Orchestra and the Nazareth Wind Symphony to perform, I thought this would be a perfect opportunity to write a piece for wind ensemble featuring the local jazz band, Bending and Breaking led by drummer Aaron Staebell. I envisioned writing a wind ensemble piece featuring Aaron's band ever since he premiered my composition Uprising (2012) with the Eastman Wind Ensemble. Bending and Breaking features: Wills McKenna, tenor saxophone; Wendy Eisenberg, electric guitar; Matt Krol, electric bass; and Aaron Staebell, drums.Additional members who performed with Bending and Breaking for the Nazareth College premiere were: Jake Wark, tenor saxophone; Matt Bevan-Perkins, vibraphone; and Tori Valente, congas. I wrote Electric Vortex to showcase this collaboration.
Inspired by powerful images I found online of an electric vortex, I envisioned the improvisation group to be the 'eye' in this powerful whirlwind.
Electric Vortex was also performed at California State University East Bay featuring Mitch Butler on trombone. Here is a score with that instrumentation:
Here is a score with instrumentation featuring alto sax:
Uprising (2012) for wind ensemble featuring jazz drumset
Uprising (2012) was premiered by the Eastman Wind Ensemble September 19,2012 under the direction of Mark Scatterday, featuring Aaron Staebell on drums. It is the wind ensemble version of my piece Overdrive for big band. The second performance was on March 3, 2013 by the University of Massachusetts Amherst Wind Ensemble under the direction of James Miller, featuring Tom Giampietro on drum set.