Zen Ritual Creative Services is currently collaborating with me not only to produce photos and two music videos for my upcoming EP release SONGS IN THE DARK, but also photos for my brand new album project work-in-progress titled TO SLEEP.
Ever since I wrote these songs with text by Emily Brontë (1818-1848), my goal was to someday take some of these songs and produce a creative music video to communicate the emotions and imagery from her evocative poetry. When i came across Zen Ritual, I knew this would be the perfect fit for the collaboration I had in mind: a team of open-minded, experimental and creative artists who wanted to explore making my music and Brontë's poetry come to life in a new way with all of the artistic forces combined.
Here is part of the photo shoot from Thursday at the Fort Apache Mines and Caves in Las Vegas:
The second half of the photo shoot was inside (see the FB post at the top of this page). On Friday, we shot the music video for the song I'll Not Weep from my new EP SONGS IN THE DARK that will be released soon. I sang this song a lot over the course of the evening in various positions: on my stomach, back, in water… in order for my singing/breathing to look more organic for the final product of video placed with mastered audio. It was a fun challenge! Here are the lyrics to the song, the poem "Stanzas" by Emily Brontë:
I'll not weep that thou art going to leave me,
There's nothing lovely here;
And doubly will the dark world grieve me,
While thy heart suffers there.
I'll not weep, because the summer's glory
Must always end in gloom;
And, follow out the happiest story—
It closes with a tomb!
And I am weary of the anguish
Increasing winters bear;
Weary to watch the spirit languish
Through years of dead despair.
So, if a tear, when thou art dying,
Should haply fall from me,
It is but that my soul is sighing,
To go and rest with thee.
They told me I had to come looking very pale with dark eyes, and had so much fun doing the makeup for this:
They also told me that I would be getting wet at some point…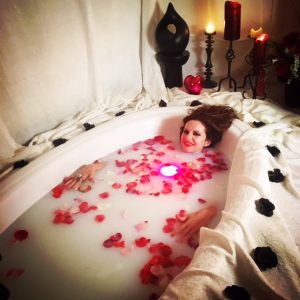 I have to say, my skin never felt so silky smooth!
This was one of the most fun, theatrical and adventurous experiences I have had thus far being a composer and performer. I cannot wait to see the final product, and look forward to many more collaborations with Zen Ritual!